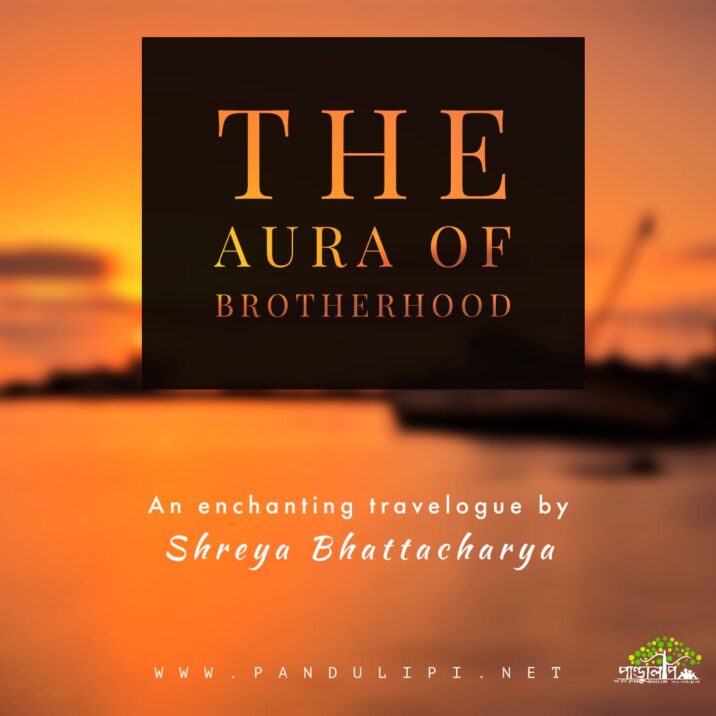 The Aura of Brotherhood : by Shreya Bhattacharya
"Brothers by hand more than the shake of the hand,
Brothers not of kin but brothers in the wind…." ——Anonymous
It was just a year back that I had the opportunity to explore and celebrate Durga Puja in North,South & Central Calcuttta. I was all melted, witnessing the ultimate joy of festivity that I got to enjoy in Kolkata all the very three days.So it was Dashami and I thought—
"I wanna visit & try some new place today-a place not so familiar to the people…."
Just then it came to my mind that every year it gets telecasted in news channels about the auspicious "Bisorjon Boat Carnival" of Taki,which is a very small town in Hasnabad of Basirhat Division in the district of North 24 paraganas. The place is situated along the banks of River Icchamoti ,a place known for its rich cultural heritage, natural diversities of Sundari & Golpata species of trees.After reaching there, got to know that it's a town of heritage land, owned by the zaminders. There are historical memorials and old palatial houses and the place is also famous
for its sweets like Chanar Malpowa .It took almost 2 hours to reach Taki from Kolkata ,the place, since time immemorial, remarkable in history for its cultural diversity ,unity and interegrity, strengthening bond of love and brotherhood, specially during Durga Puja Immersion Carnival .Walking down the Ghat I got to see Taki , which is on this side of India connecting with Satkhira ,a district of Bangladesh on other side , carrying boats from both sides of the neighbouring countries ,along with the Goddess Durga Idol amidst the river's international border. As time passed, we saw the boats that converged too close ,with people too sharing greetings with ultimate deafening shouts….
"Bolo Bolo Dugga Ma Ki Joy……Ashche Bochor Abar Hobe"……..Finally the immersion of own idols,enhanced religious harmony between the two nation.
There were boat services available right at its nearest ferry ghat to explore the Machranga Island which is something fascinating . I felt that it was a place that could be visited at anytime of the year.But during Durga Puja visit it was something that would give immense happiness, bringing out festivity of memories within heart.It was almost 2.30pm when lot many boats were coming to set for immersion and music set into boat ,people waving from far.
Ah! The feeling gave just goosebumps filled with nations pride.There was nothing to bother about,only the ambience filled with all bond of religious harmony among people from both nations .Yes finally we decided to come back from there as it was getting late.We visited a local restaurant whilst got to see that Taki is indeed famous and have lot many small dhabas, where you can have mouth watering dishes like cooked Ilish ,Rui,Chingri,Pabda and savour the delicacies.The owner of the shop informed us that during winter months, Patali Gur was very much available for purchase because the place is known to have its original jagerry.While getting back I also explored the Golpatar Jungle walk which left behind me in interesting and unique wilderness.On the way back we took a quick visit to Roy Choudhury Zamindar House ,which is an ancestral house of former Army General Shankar Roychowdhury. There is also a Natmandir, old temple in the premises itself.
Very near was situated Ramkrishna Mission and also the Kuleshwari Kali bari too.Taking a Mo-Van which took Rs 20 each person we reached station when it was almost evening and returned back boarding the same train .
So for all the travellers whosoever is reading this travelogue of mine, I would like to suggest that you should try or manage your time to travel to this mesmerising place ,in your budding weekend or during the auspicious festival of Dussera to explore the immersion ceremony and wrap yourself with feelings of Indo-Bangla bonding.